Easy Divers Koh Samui Dear Divers and everyone who is interested in Scuba Diving! Welcome to Koh Samui Easy Divers! We are a PADI-Five Star IDC-Centre, which means that you can do almost every PADI Dive Course from Discover Scuba Diving all the way up to the Instructor Development Course, we've got it all in our program! Our dive school is well established here on Koh Samui founded in 1987 and run by an international management. http://www.easydivers-thailand.com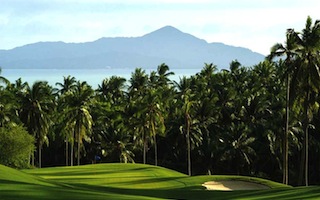 Santiburi Samui Country Club Welcome to Santiburi Samui Country Club – "A MUST TO PLAY" Santiburi Samui Country Club is applied a championship golf course on the mountain of Samui Island. Each of the 18 holes 6,930 meters on this par-72 course has its own character and challenges. From steep uphill and downhill runs to winding fairways that cuts to coconut cliffs and mountain streams in the forest, Santiburi Samui Country Club is just one of the most unique golf course that is built in perfect harmony with the natural environment Santiburi Samui Country Club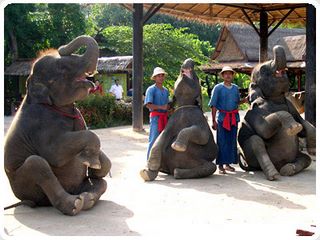 Island Safari Tour Safari Tour – Full Day Hotel Transfers – Full Insurance and Guide – Elephant Trekking – Elephant Show – Thai Boxing Show – 4 x 4 Jeep Mountain Safari – Jungle Walk – Buddhas Magic Garden – Best Mountain View Points – Tropical Waterfall – Snorelling at Koh Tan (20 Min. By Long tail Boat) – Soft Drinks and Fresh Fruit – Thai Style Lunch – Guaranteed Good Time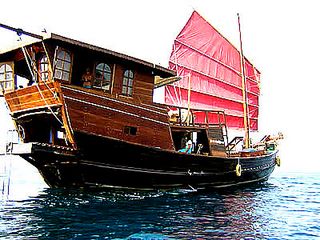 La Fortune – Burmese Junk La Fortune is 82 foot traditional Burmese junk built in Ranong on the West coast of Thailand. It is a very authentic way of experiencing the waters around Koh Samui and the untouched beached North of Koh Phangan, starting out at 9 am from Bophut and returning at 5:30 pm. La Fortune offers daily cruises or private charters, including hotel transfer, breakfast on board, soft drinks, Thai lunch, snorkeling and fishing equipment. The boat takes up to 40 pax.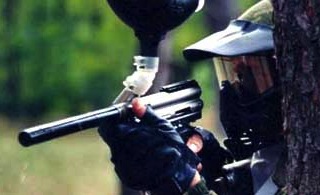 Samui Paintball Koh Samui features a number of amazing paintball venues. The best part is that most of the paintball settings at Koh Samui are set in a real jungle. Therefore, it gives you a real battle-like experience when you join your team to fight your opponents. No wonder, it is one of those most thrilling activities in Samui. Samui Paintball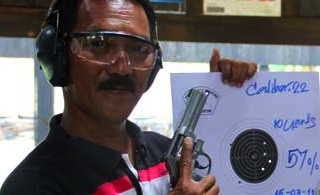 Samui Shooting Range Choices of weapons include pistols, rifles and revolvers as well as a variety of semi-automatic weapons. All through your shooting and training session, you will be under strict supervision from your instructor. Whether you are a novice or an experienced shooter, you will certainly enjoy this amazing activity. Samui Shooting Range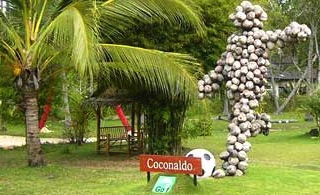 Samui Football Golf Football golf may sound weird, but it is indeed a great activity for all ages. This unique activity is enjoyed on a special course, where you will play and kick a soccer ball to make it into a big football-sized golf hole. Samui Football Golf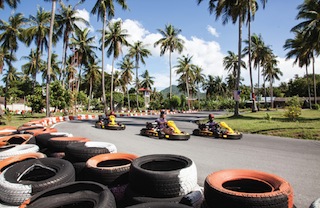 Go Cart – Koh Samui Go-Cart Speedway. Coming from Chaweng or Airport Coming be found about 600 m after the big traffic lights the Samui Cartbahn. For motorsports Freak it presents a challenge with handy but sometimes a bit holey covering. The well-designed, with slight uphill and downhill passages provided, track is fun. Go Cart – Koh Samui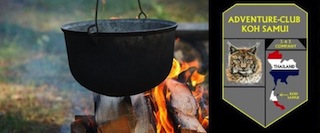 Adventure-Club The base camp Our base camp is in front of the mountains. After a few minutes on foot one is immediately in the jungle of Koh Samui. Adventure-Club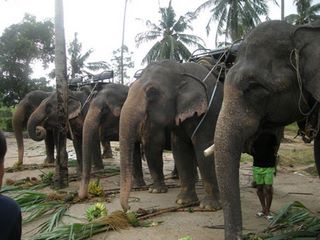 Living Thailand Tours Koh Samui Elephant Trekking Enjoy elephant trekking along a stream of Wang-Sao-Thong waterfall. To the hills above samui island. See Good views over Samui island and across to the mainland.
Koh Samui Mini Golf International No.1 Jungle Golf Koh Samui is the only mini golf course on Koh Samui which meets the requirements set by the World Mini Golf Federation, and was officially entered as the first professional mini golf course in Thailand. The course has eighteen 12-metre concrete tracks and is beautifully set in a tropical jungle next to popular resorts in Choeng Mon, Koh Samui.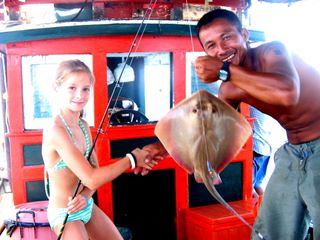 Mr. Ung's Fishing Tours Fishing Tours Types of fish: Barracuda, Cobia, Shark, Mackarel, Sailfish, Grouper, Trevally and More … "Private charters available" Genuine Thai fishing boat with a cool shade cover to protect you from the sun. Rods, lines, traveling gear, fresh bait and lures. Thai boat lunch, cool drink and tropical fruits.
Mr. Ung's Magical Safari Tours Jungle Safari – Non stop action ! Non stop fun ! Coconut Elephant trekking Waterfall swims 4WD climb into the jungle 5 Mountain view point stops Buddha's Magic Garden Mummified Monk (deadmonk in the sitting position preserved in a glass cabinet) Mountaintop Restaurant -supreme views.
Mr. Ung's Sky Fox Super Ride "Sky Fox" Namuang Waterfall 600 Meters of action, 5 rides. Professional help harnessing and buckles. Views of the waterfalls, mountains and ocean. Safe for all ages 8 years and up. Hotel pick up and drop off. Waterfall swim afterwards !! Pick up time: 8.30 – 8.50 – 11.30 – 11.50 – 14.30 – 14.50 Safety first guaranteed – Trained staff and Equipment Maintenance. Registered Activity with Thai Tourism Authority.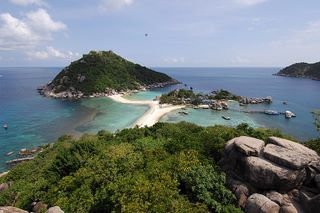 Petcherat Marina Charters and Tours Koh Samui speedboat charters and tours ANGTHONG MARINE PARK TOUR Sail of to the most unique national park in Thailand. Anthong Marine Park come and join us for a full day of adventure and magnificents sights. Our speed boats can land you on the most marvelous beaches On Angthong you have ever seen. www.samuispeedboat.com
Samui ATV Tours Adventure Safari Tour with Quad-Bike We, Recreation Unlimited Group, proudly presen a big selection of expertly maintained Quad Bikes for your pleasure at ATV Adventures Park, Laem Sor Beach. Your travel through several different types of terrain, from moddy section through a rubber plantation, powering up the hilly section and riding along the beach to visit Laem Sor Pagoda, one of Samui? oldest Pagodas.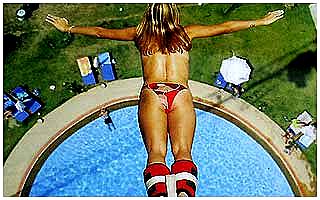 Samui Bungy Jump Face Your Fears!!! Want to get that ultimate adrenalin rush? A crazy alternative to the beach. The best bungy jump in Thailand. We offer professional and safe adventure activities in the heart of Koh Samui. These is the adrenalin pumping, heart thumping high speed thrill that you can't afford to miss. Samui Bungy Jump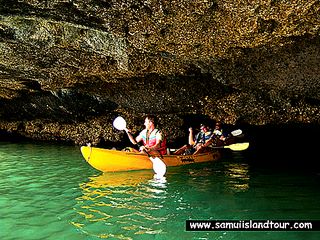 Samui Island Tour Kayaking-Snorkelling-Sightseeing Nord west of Koh Samui lies the archipelago of the National Marine Park. With over 42 islands it is one of the most spectacular sceneries of Thailand. Come kayaking and snorkelling with us to discover wild granit rock formations, hidden caves and colorful coral gardens. Climb to the top of 240 m hill to view the whole island group and see for yourself the beautiful lagoon deep inside the main island from which Angthong gets its name "Golden Jar".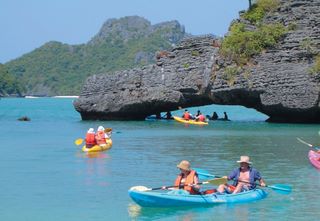 Samui Sea Adventure Island Cruises and Private Speed Boat Charter. Snorkeling and Kayaking at Angthong Marina Park.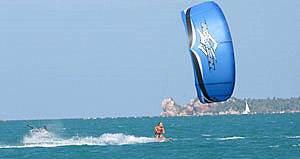 Wet and Dry Kiteboarding Club Koh Samui The water in Koh Samui is so clear that you will simply not find any rocks or jellyfish in the water. In fact, the Samui beaches have just the right condition for you to enjoy kite boarding and surfing. Both Hua Thanon and Nathon are the two major and popular locations in Koh Samui. Kiteboarding Club Koh Samui