The island of Koh Samui
and your memorable moments ….
THE TROPICAL PARADISE - KOH SAMUI ISLAND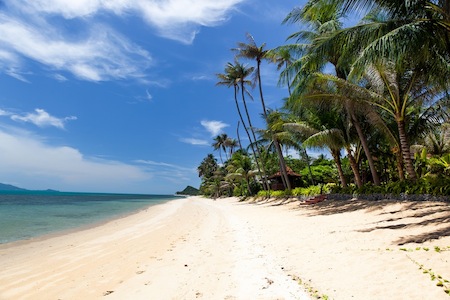 The resort island of Koh Samui is located about an hour's flight from Bangkok in the Gulf of Siam. Crystal clear waters, sandy beaches with palm trees, to 600 m high, green hills and amazing rock formations form the ambience for a comfortable holiday with fantastically beautiful sunsets.
Koh Samui offers guests beside all year bearable temperatures between 24 ° and 34 ° C all the tourist of today expect.
A tropical paradise of sun, sand, sea and about 5 million coconut trees. An idyll with its friendly inhabitants, in the picturesque little fishing villages between the kilometer-long, deserted sandy beaches with offshore coral reefs.
You will be spoiled in many Thai and Western restaurants. There are also many leisure and cultural activities accessible and extensive sports activities such as Diving, sailing, water, etc. can be found on the island of comprehensive medical care to the private clinic international standards and varied shopping, so everything inexpensive for a varied and for Western tourists holiday.
The island is malaria free and easy enchantingly beautiful …
Located at 20 minutes from the airport – On one of those beaches in the north – on Ban Tai beach.